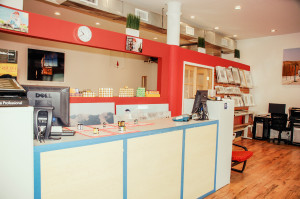 The Color House New York is your 100% satisfaction with our products and services is our goal. The owners of The Color House NY have years of experience in the photographic industry. They believe your business should be earned with personalized services and will match guide prints and gladly answer technical or general questions to their fullest.
TCHNY maintains the highest standard of quality, uses state of the art equipment in all areas of production. All processes are monitored and maintained according to commercial control standards.
We can produce images from a negative, transparency or digital file. The sizes available range from wallets to 4×10 C-Prints. Your prints can be imaged on all available photographic materials such as metallic paper, duratrans, duraclear, duraflex, and day/night material. Also available is our Ink-Jet service which can produce images 58 inches wide and up to 300 ft. long in some cases. With our Ink-Jet service we also offer a multitude of papers, vinyl's and other materials to enhance your images.
Our store is open to meet your needs 7 days a week! Monday through Friday, from 8:30am. until 10:00pm & Saturday and Sunday, from 10:30am until 6:00pm . Every service provided at The Color House NY is considered a reflection of pride in our work and our commitment to excellence. We take every measure to ensure your satisfaction with our lab.
We guarantee to always have an owner on site to meet with you and answer any questions you may have. Please take a moment to browse our website and familiarize yourself with our services. If you have any questions, please call our office or visit us in person without hesitation. We are confident that our lab will be able to meet all of your imaging needs, and look forward to the opportunity to exceed your expectations.
Thank you in advance for your interest in The Color House NY.
We look forward to serving you for many years to come…